As usual on all my guides: PLEASE Read the guide first. prefferbly BEFORE ordering components or so. also follow it. the reason why you do it in steps is to catch errors so you do not have a completly built board and then try to start it and it will not start.. and if stuff doesn't work as in the guide: check what you have missed. if it is not in the guide: I have not idea either. 🙂
The CD32 is very special, so if you lack a component from the BOM. it means you will need to transfer it from a old board.
Anyway as usual. put all passives on the board. Resistors, ceramic capacitors, diodes etc. leave the electrolytic capacitors. A note about U14 and U49, on the original CD32 it is using a component that are not produced anymore. you can use that one OR the small 3 pad (SOT-23A-3 ) location with a TC54VN4302ECB713. NOT both.
AND CD32 have a addon throughhole resistor at U49, this is not needed as it is fixed on board.
(Most of this guide works for CD32 clone aswell. but you are on yourself when it comes to parts I have changed in the ReCD32)
Anyway Locator for the project you can find at: https://locator.reamiga.info/locator.php?project=ReCD32
Project webpage for the ReCD32 you can find at: https://www.reamiga.info/?page_id=148
Anyway. A board with all passives on: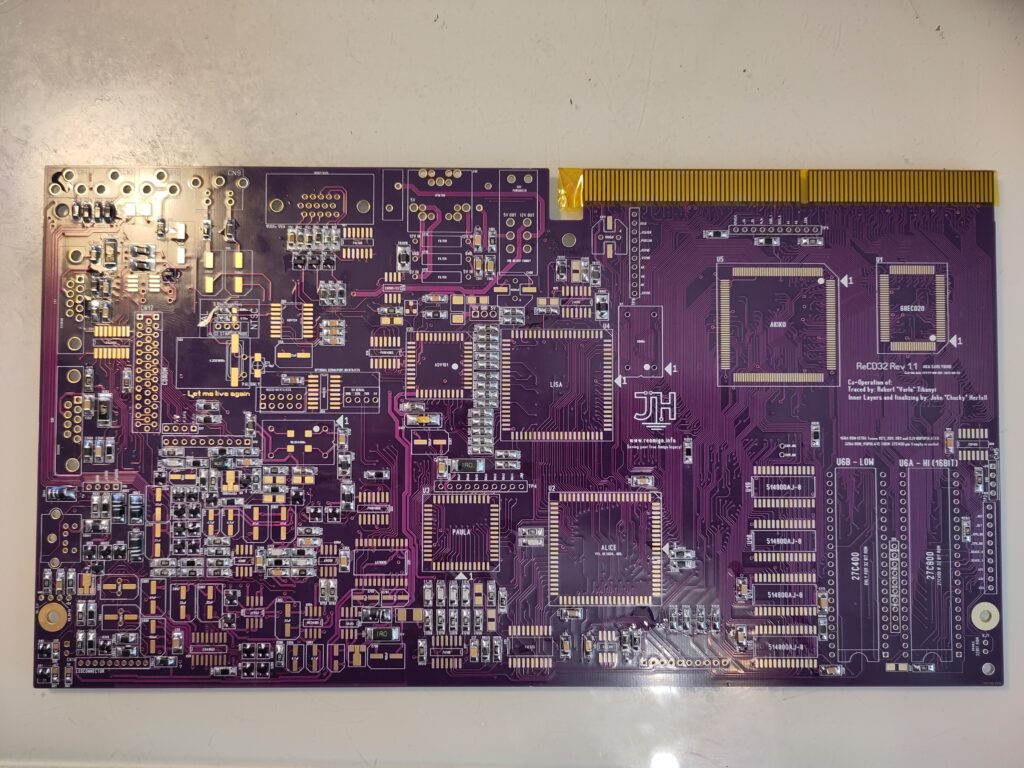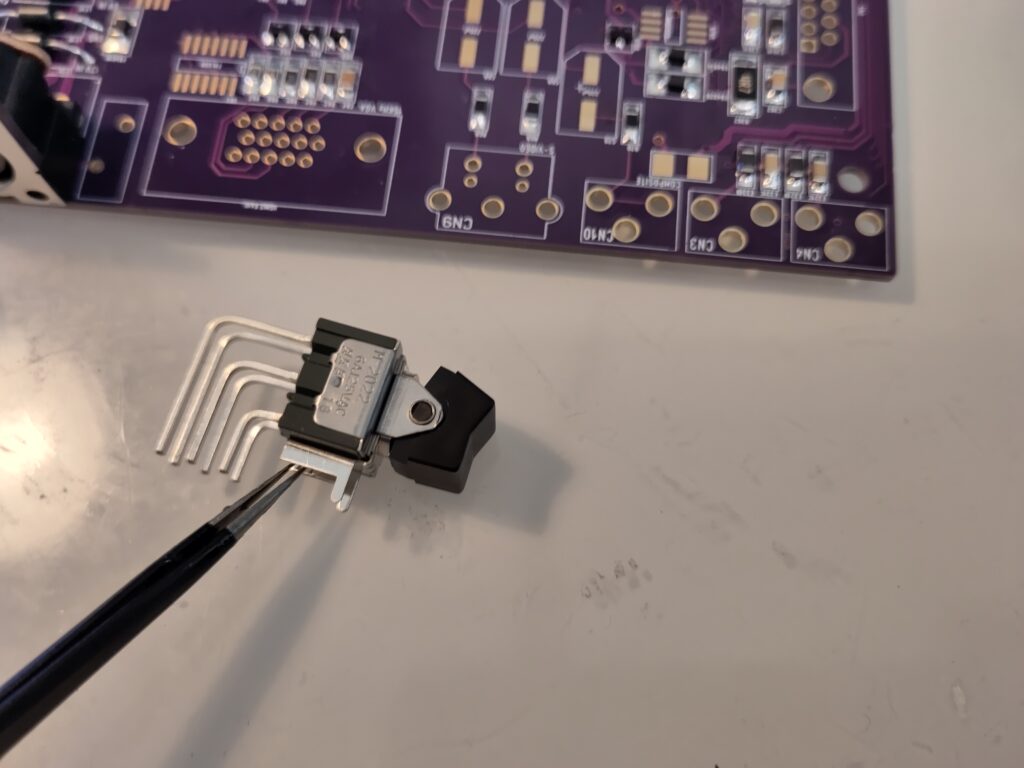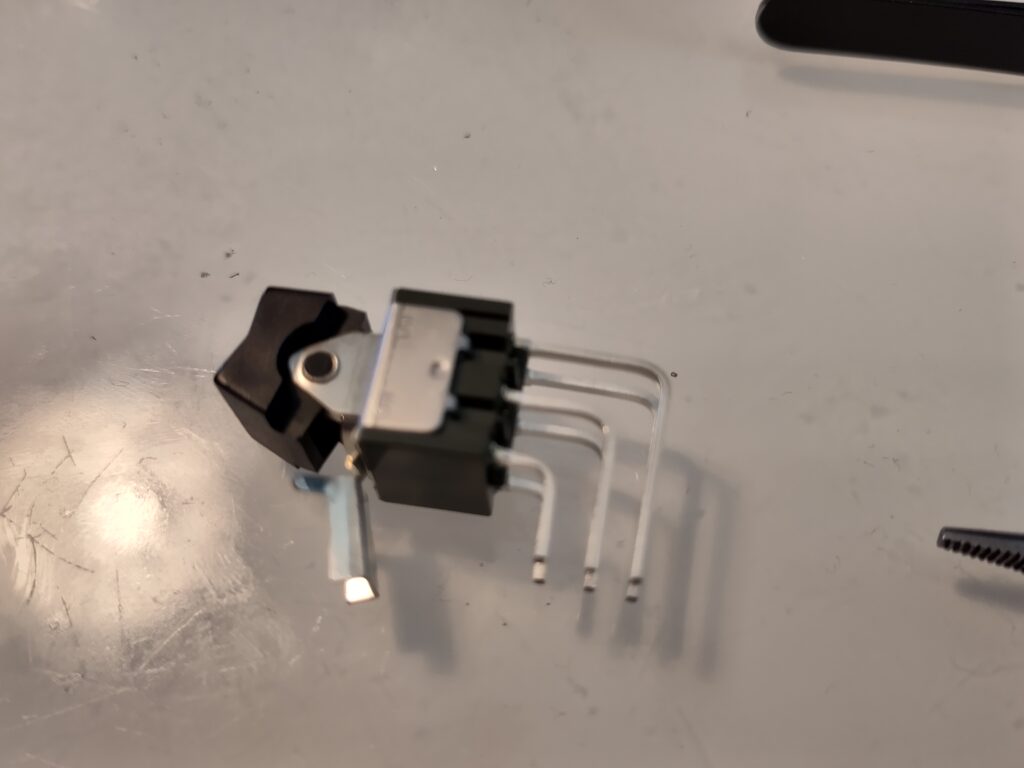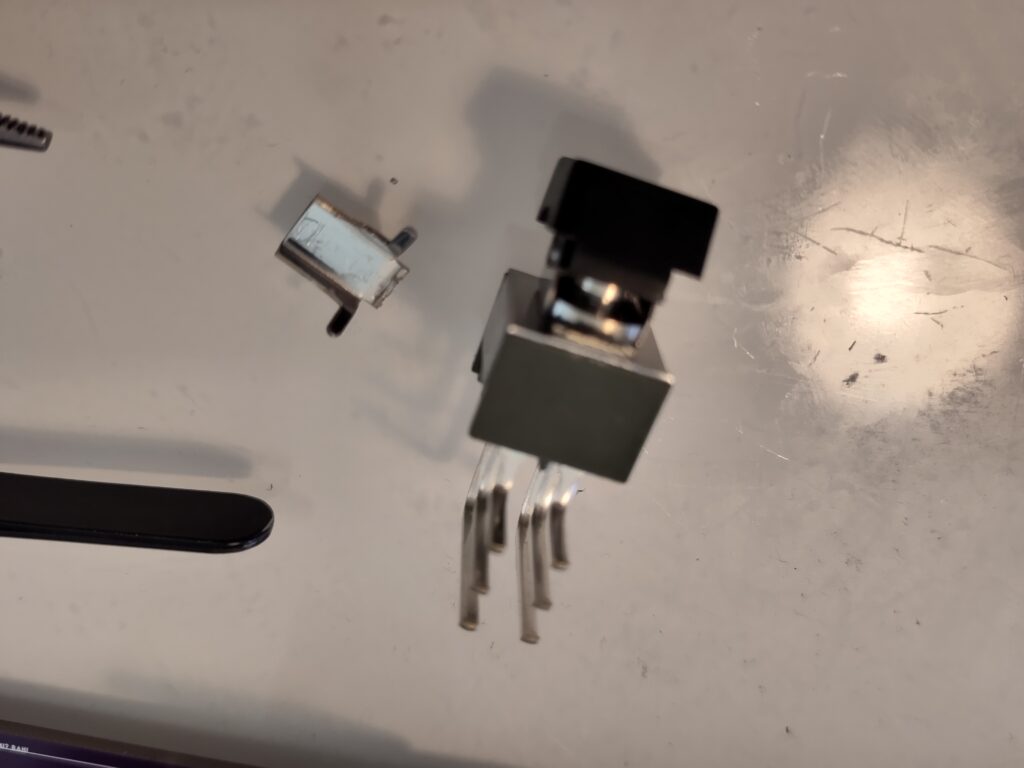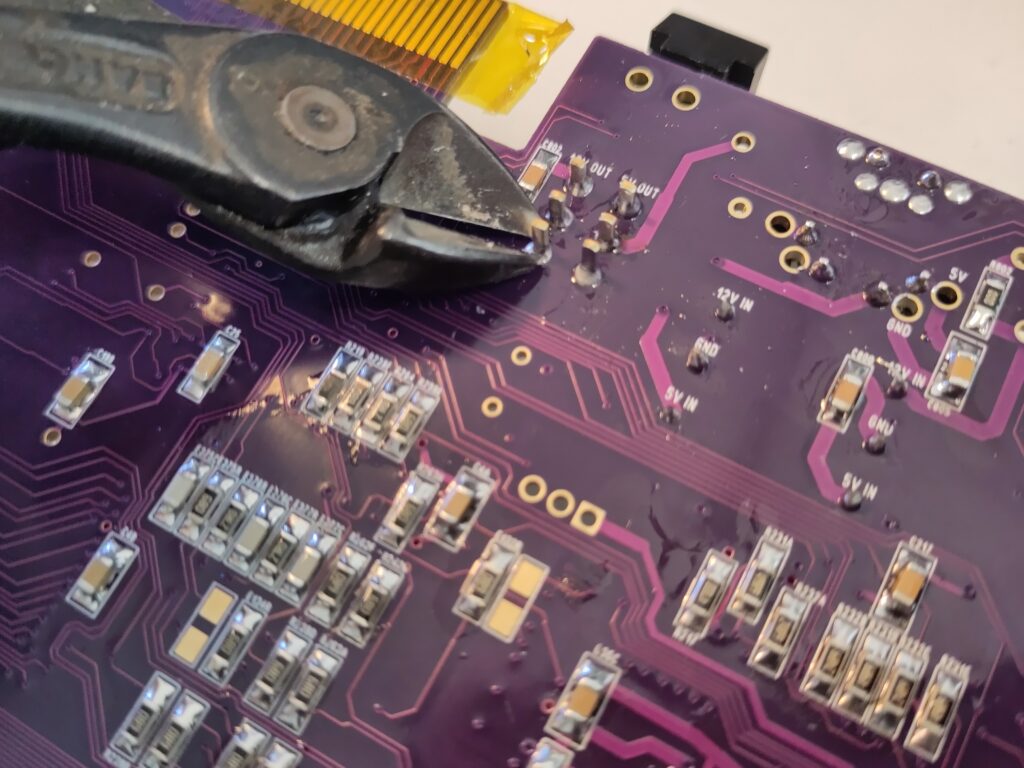 All in place and power it on: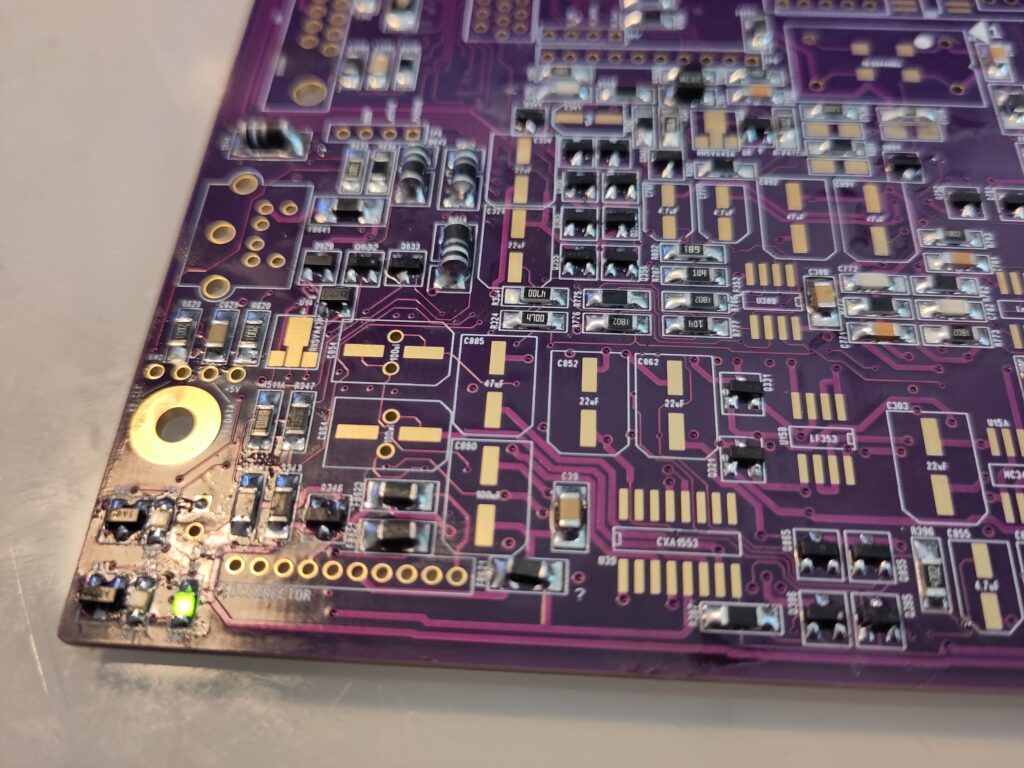 The led for +5V will now go on.
Time to add 28MHz clock:
Put in the 28MHz oscillator (ACTUALLY for a more easy build do this AFTER LISA but I want to point out what is needed for the 28MHz to work.
U25 (74F00)
Now there should be a 28MHz systemclock. (but as told. wait with the 28MHz AFTER you soldered in LISA) even if I now show picture with 28MHz in place: (probe where you can check for a 28MHz signal)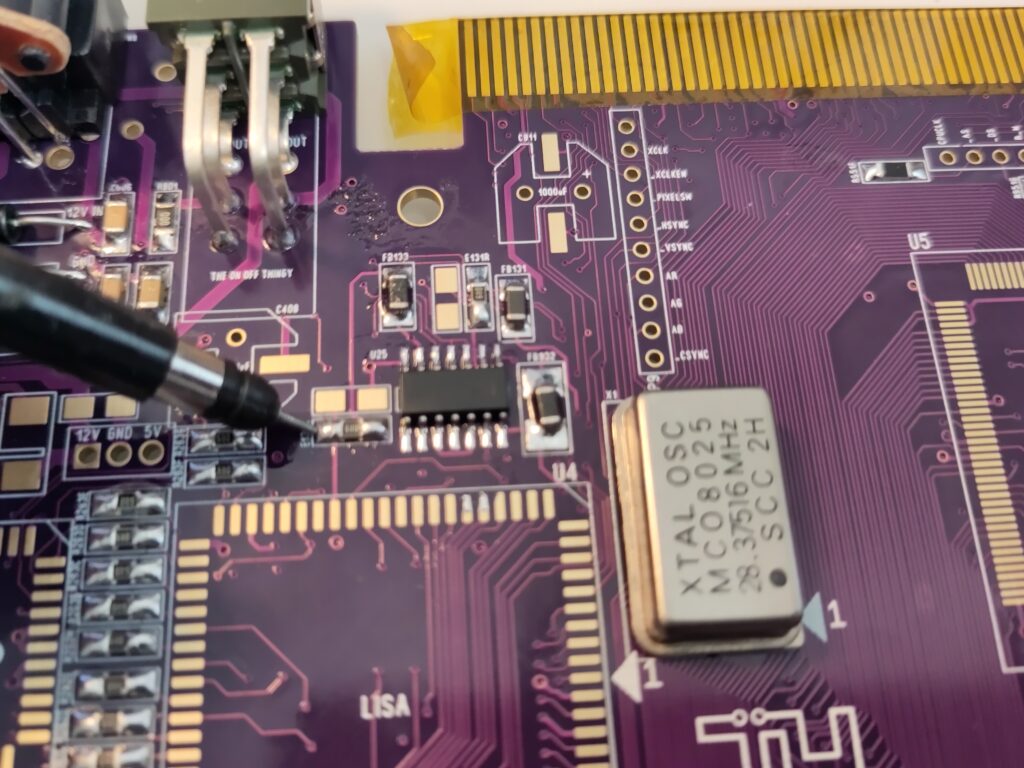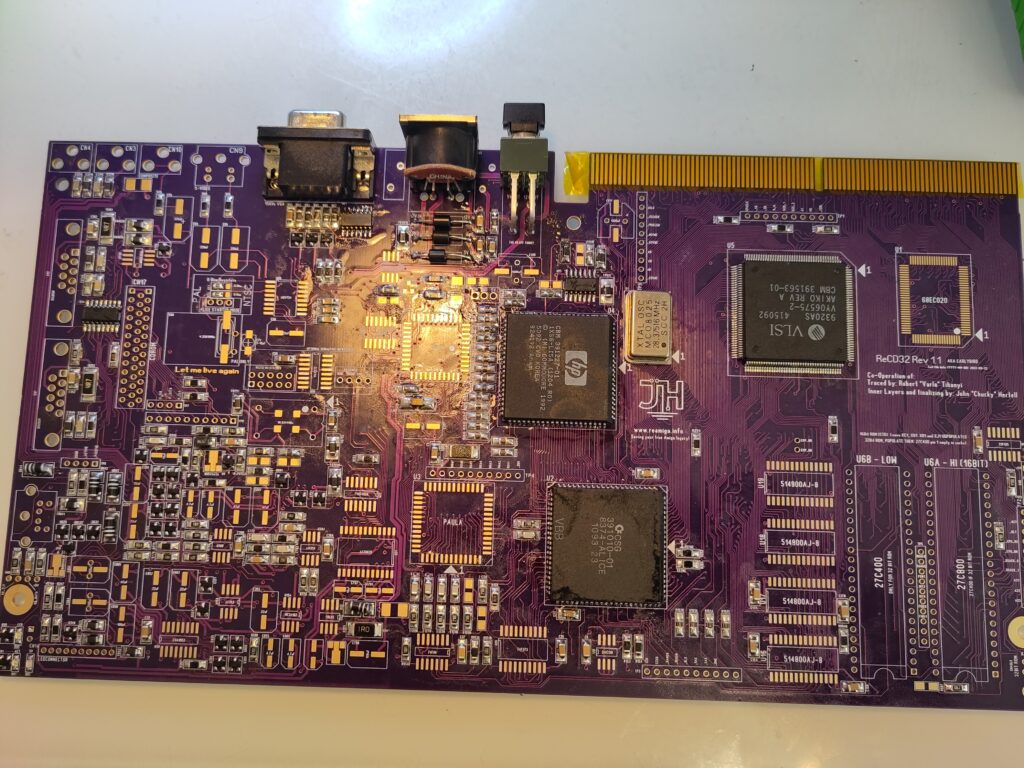 You can now get a (15KHz) sync on the VGA Connector. OR you can probe V and H sync on the left pad on the 2 resistors right of ALICE. or one of the testpoints of the board.
Now time to get some code running.
First. in this build I am using 32 bit roms instead of standard 16bit. Remember that the BOM includes stuff for this. so if you do NOT want to use 32 bit roms. you can skip one 42 pin socket (U6B) also you can skip XU1 and the jumper. (remember to remove from BOM when ordering).
HOW to burn 32 bits roms etc. this is not the guide for that. it will be up to you. Anyway the rest here is with 32 bit roms.

Anyway add XU1 (74F125) (SKIP this for 16 bit (original) ROM)
Add jumper-header for 32Bit rom at right botton. (and put a jumper there) (SKIP if 16bit)
Put in ROM sockets (ONLY U6A for 16 bit)
Put in CPU and U37 (74F86) (NOTE: on OLD pre-release CD32 boards from me silkscreen is wrong way on PCB. follow direction on the locatorscreen).
Put in DiagROM as rom.

Cpu now runs code, you will note it if you probe data/addresspins on the romchip that there is activity.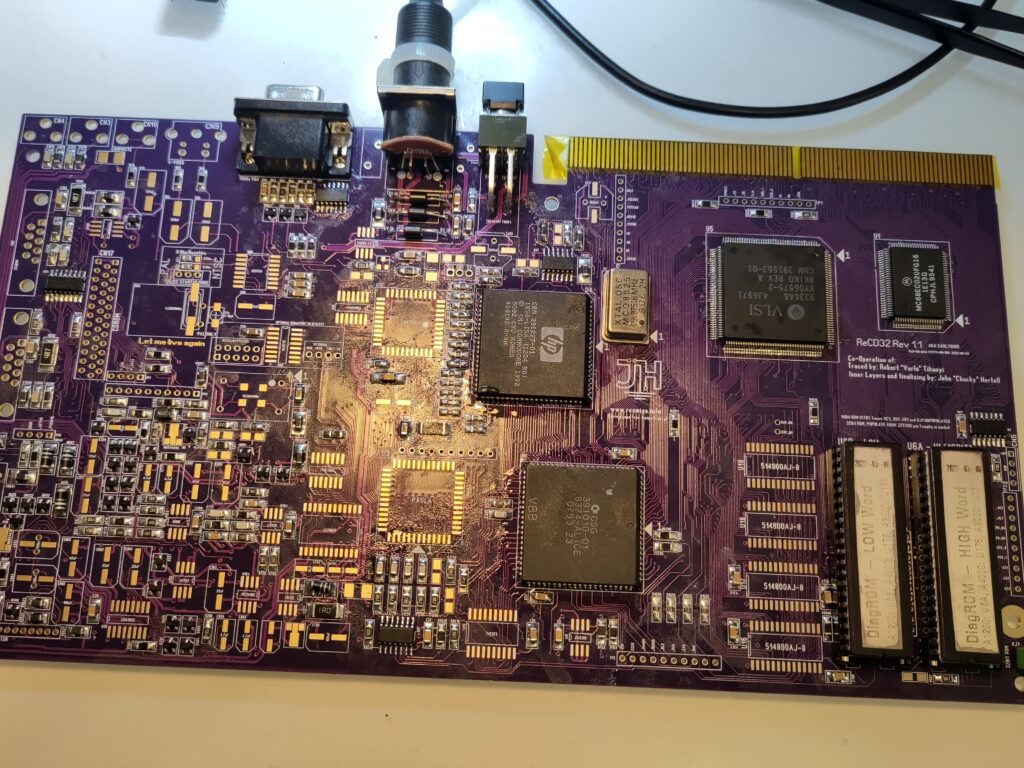 Here you see with 2 roms (32bit) also note that the bottom pins are not used when using 27c400 proms. (same as on 1200 etc) for 16 bit you have a 27C800 prom at the right socket.

Next step is Paula so add it. (NOT. prerelease CD32 boards, Silkscreen is wrong! put paula as in locator (and original board as shown on picture):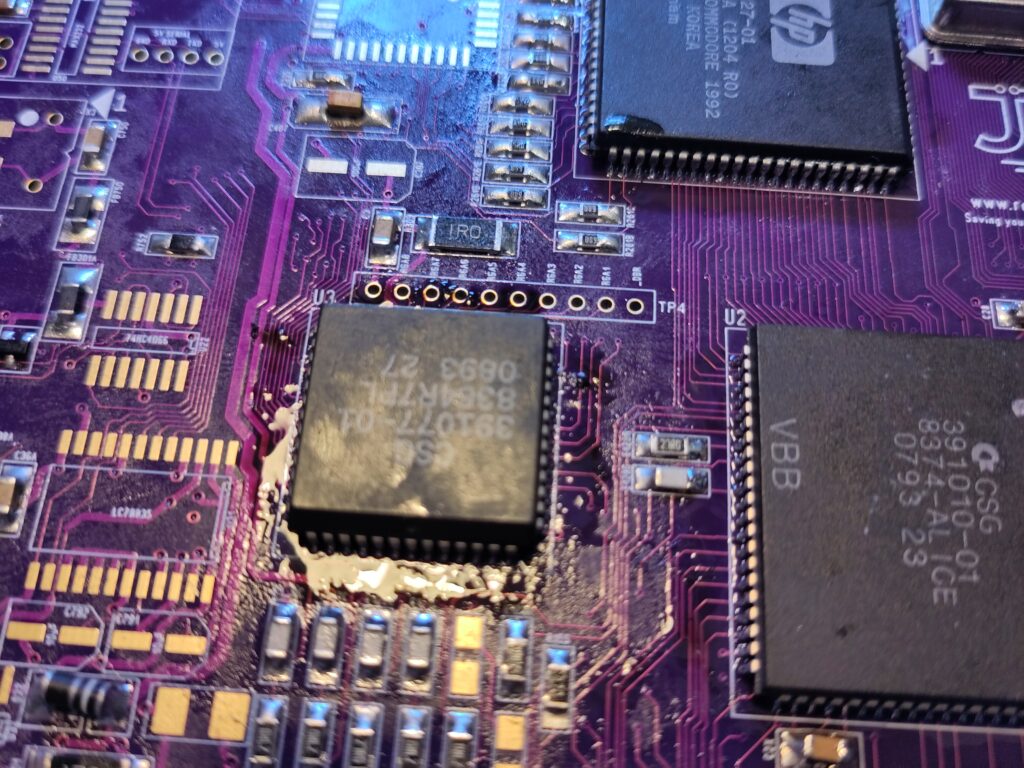 now time for a OPTIONAL addin: the serialport. (NOTE this serialport does NOT handle RTS/CTS handshaking) this is FULLY optional and not needed. (BUT is in BOM so remove components if you do not want it). there is a location for a header if you are happy with a 5V serial signal but as normal serialport does not use 5V. I added this feature.

Add U50 (MAX232)
and the 10 pin header.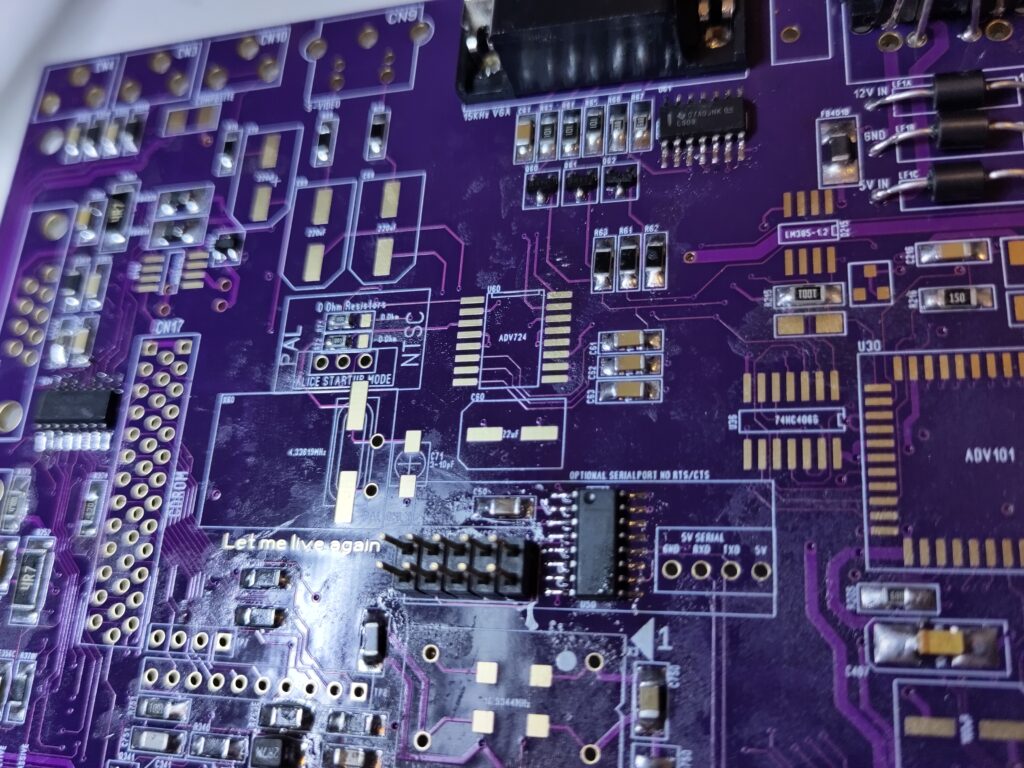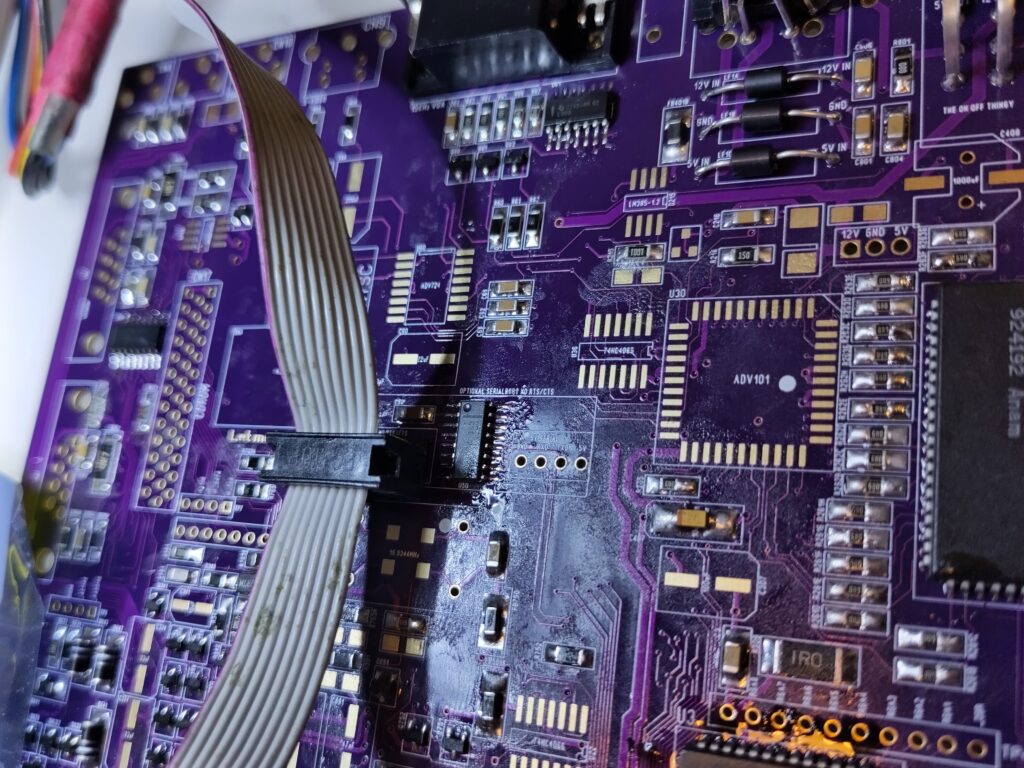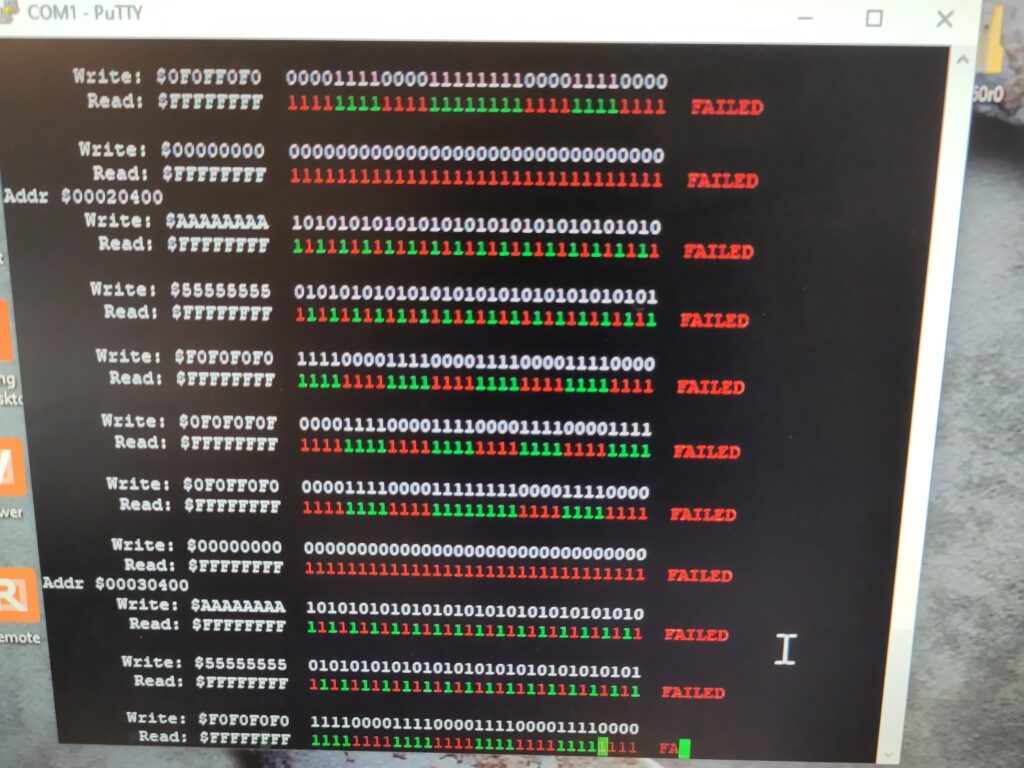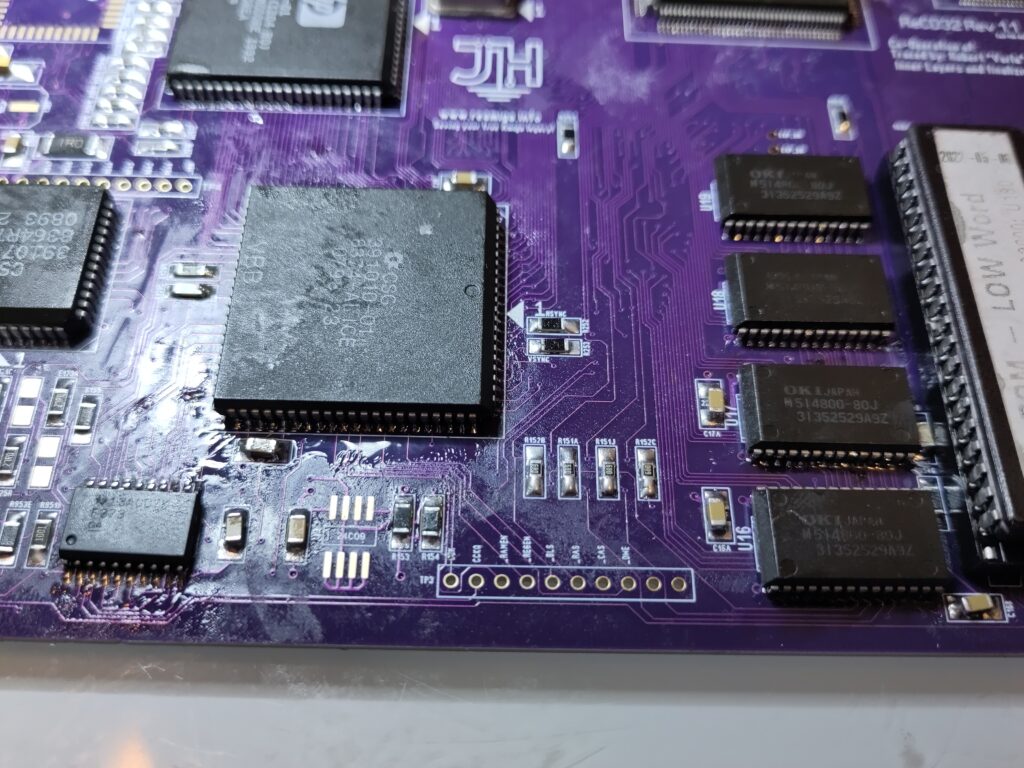 Put in a jumperheader at PAL/NTSC location and put a jumper at desired more (and 0ohm resistors between correct pads). Also add the Composite video connector.
to get picture out you will need one cap as shown. this will give some kind of picture on composite (on PAL most likly black/white to be fixed later)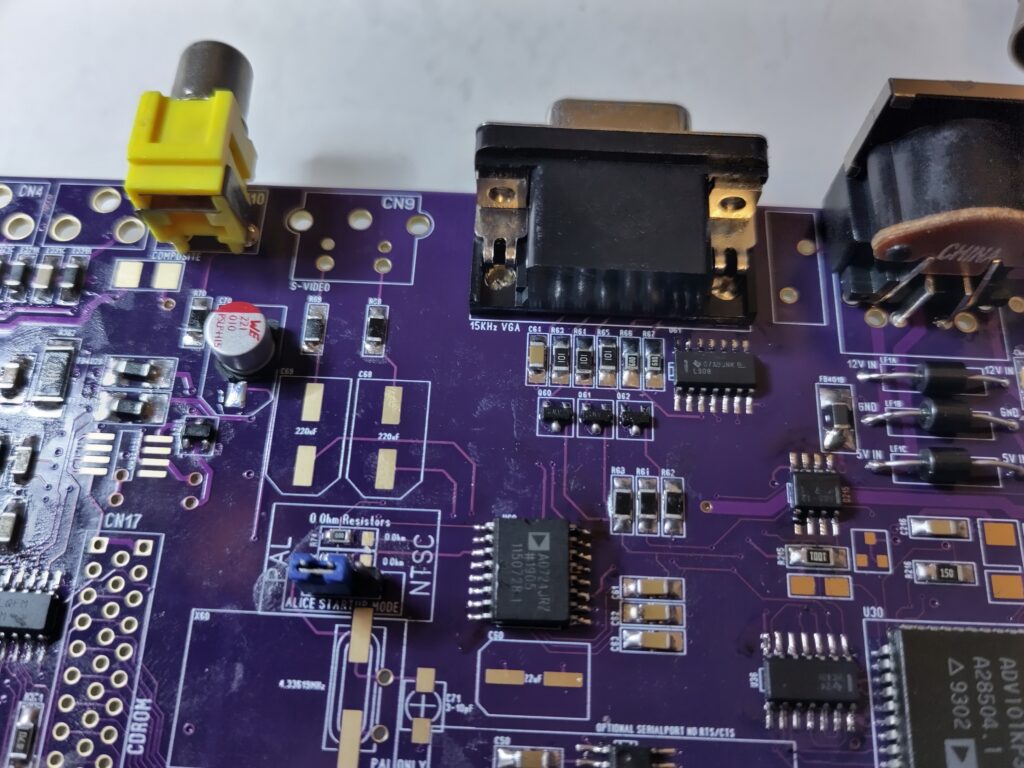 Now it is time to add stuff for audio, extra videomixing (from FMV card etc):
add:
U15A, U15B, U38B (LF353)
U38A (LM358)
U39 (CXA1553)
U31 (LC78835M)
U22 (74HC4066)
U32 (78L05)
X3 (16MHz)
RCA Plugs for Audio.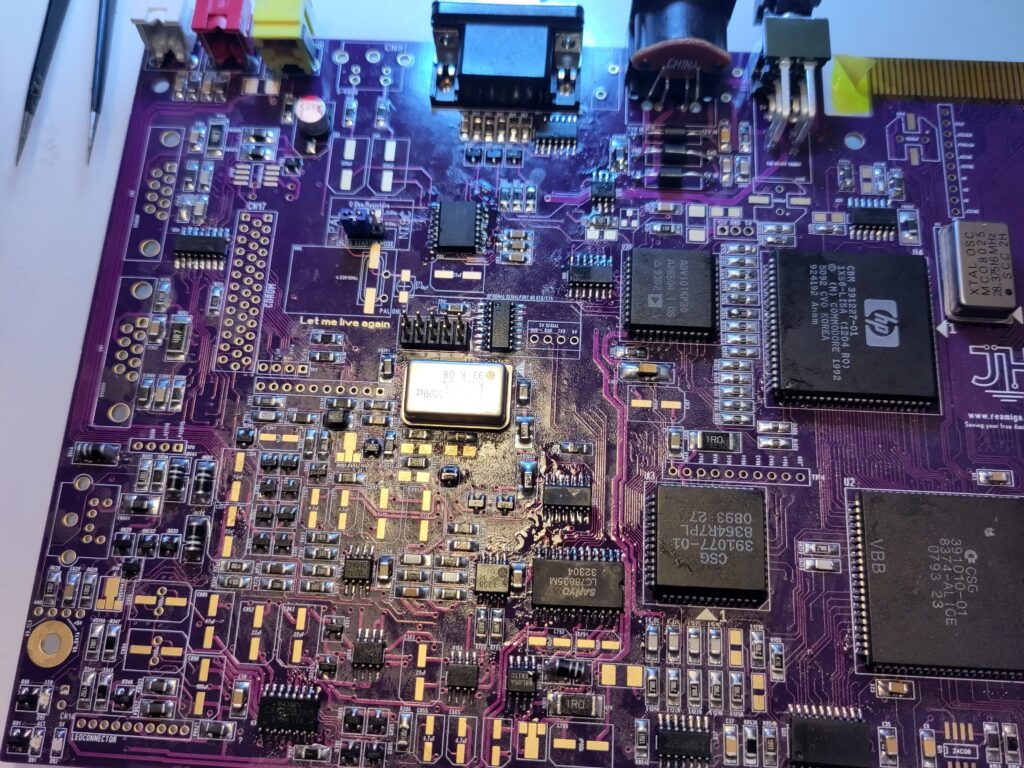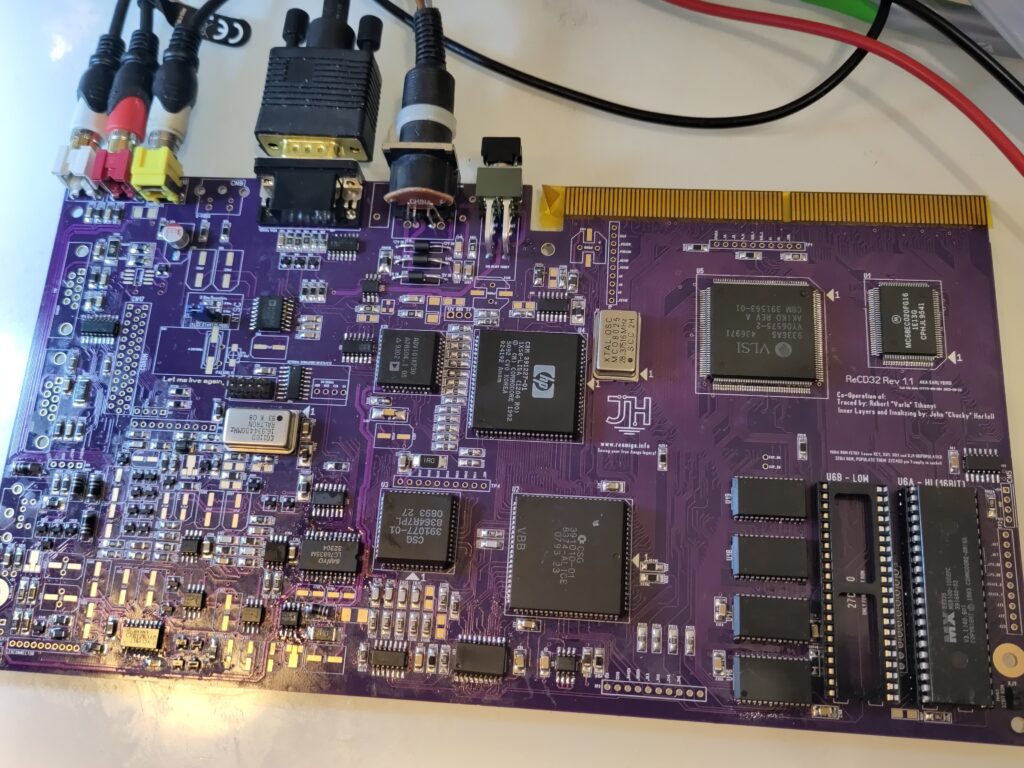 On this picture you can see that I put in a 16bit rom. you can still do that even if you soldered stuff for 32bit. you just remove the jumper to the right of the ROM and original 16 bit roms works fine.
you shold get the famous CD32 animation. (on Composite on PAL will be black and white etc) and no audio yet!.
Lets add the small NVRAM.
Add U9 (24C08)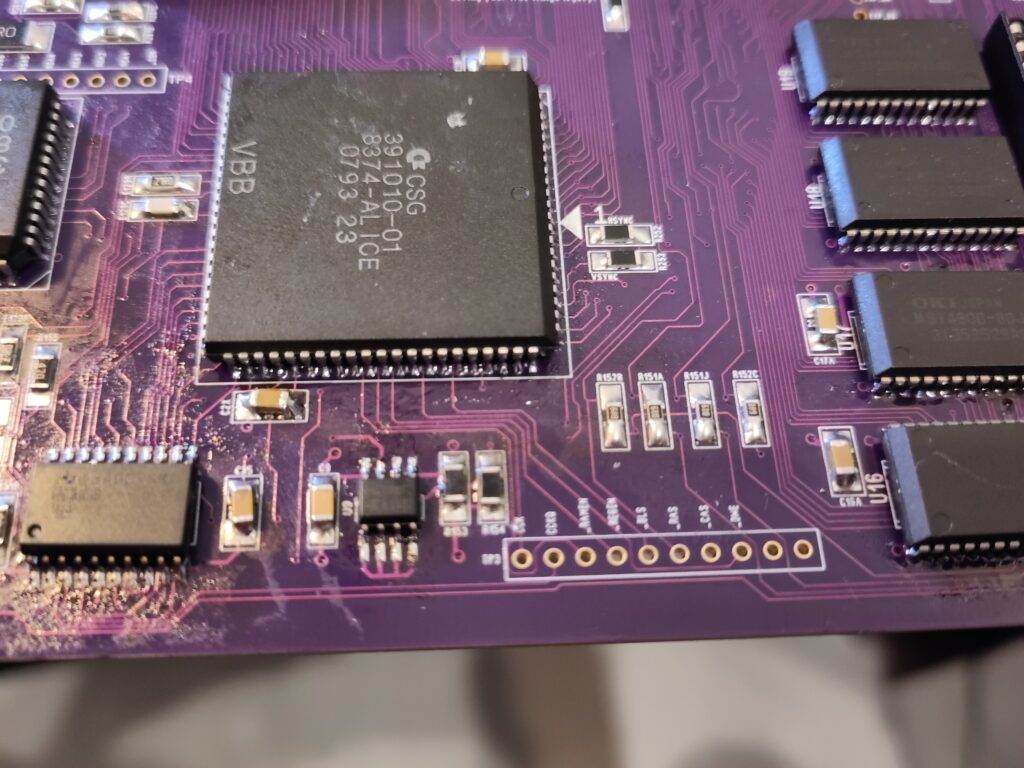 also on the location marked Q765, schematic say it is a small transistor. so I move that chip that is on the cd32 🙂 )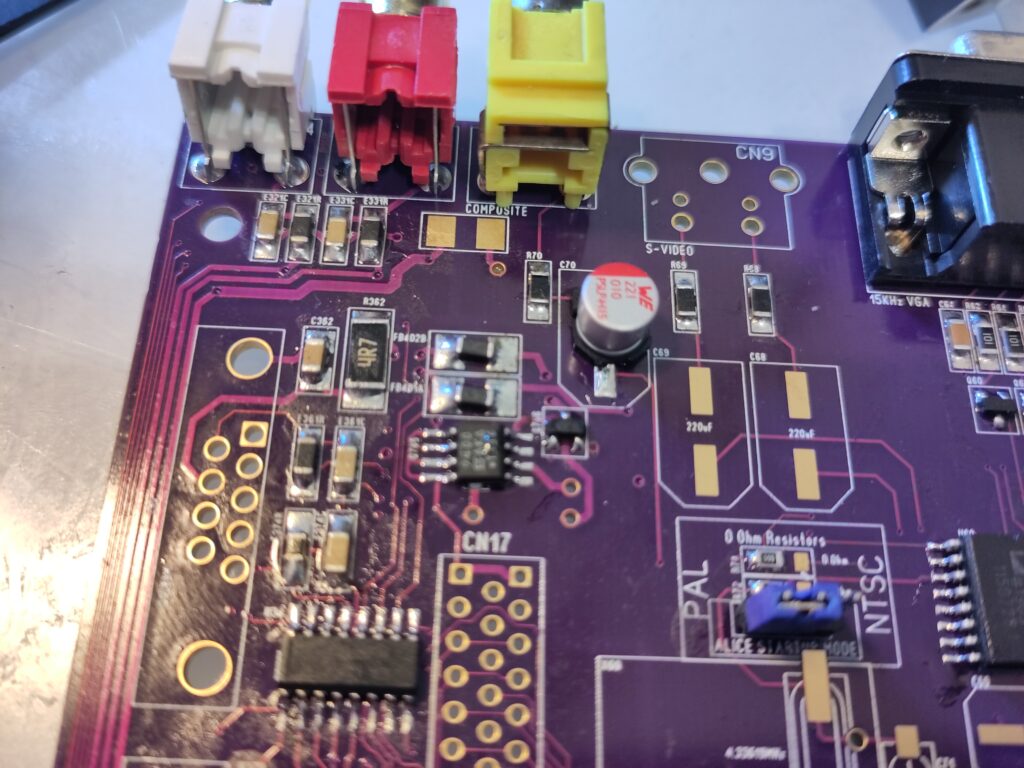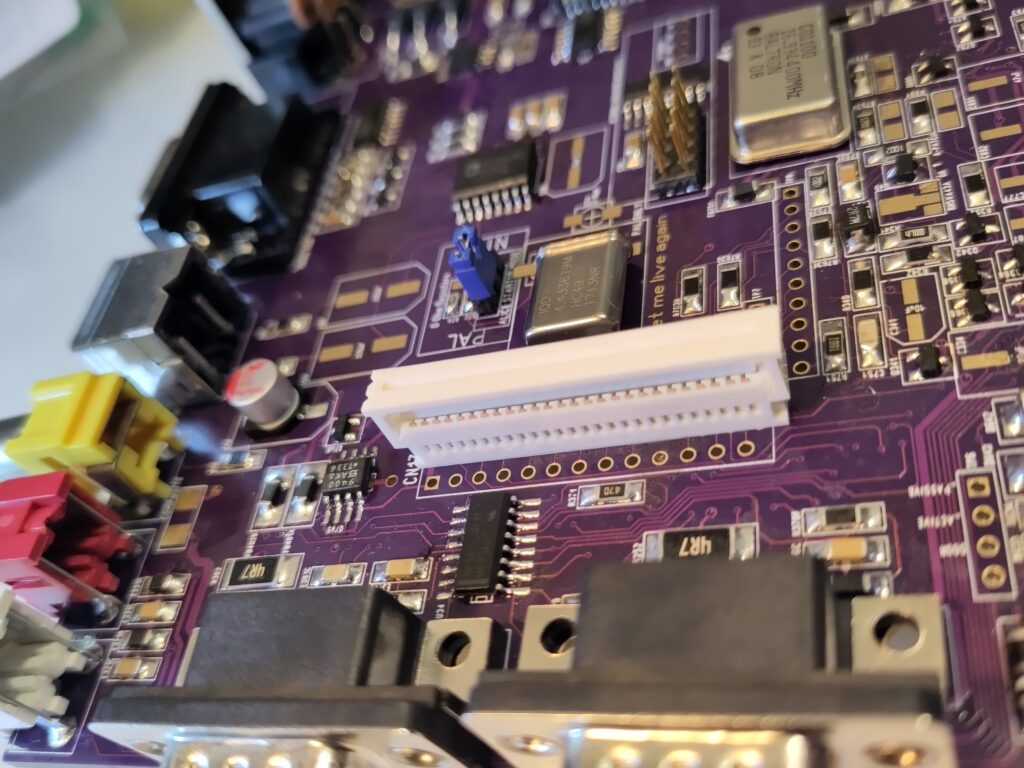 I lifted up the latch here so you can see more easy how it should be rotated.
Now solder in the rest of connectors, DSub, Led board, amd Keyboard.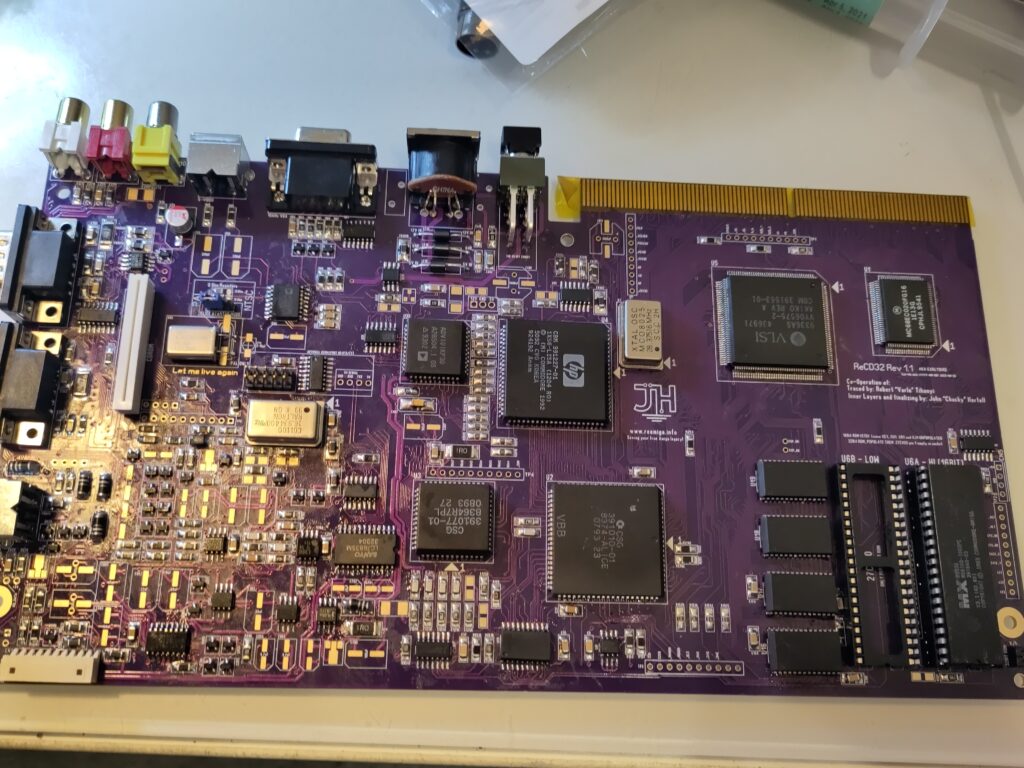 and after that add your electrolytic capacitors: (and NO! you do NOT use Ceramic or Tantal capacitors they behave different! use high quality electrolytes)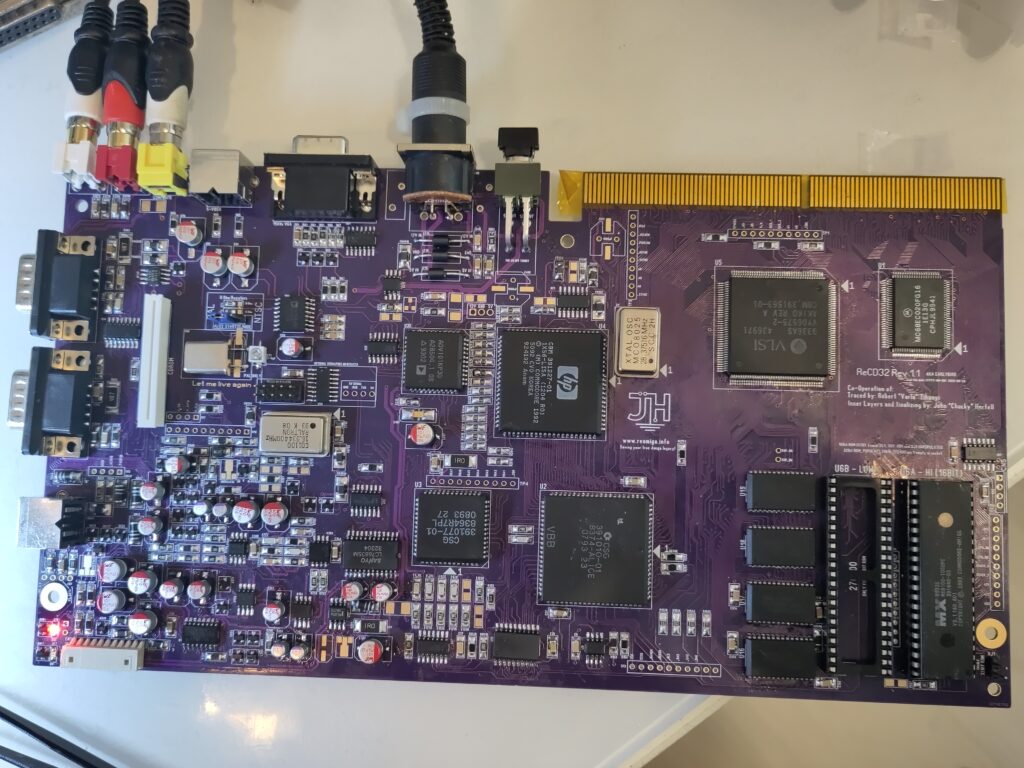 So lets start it up: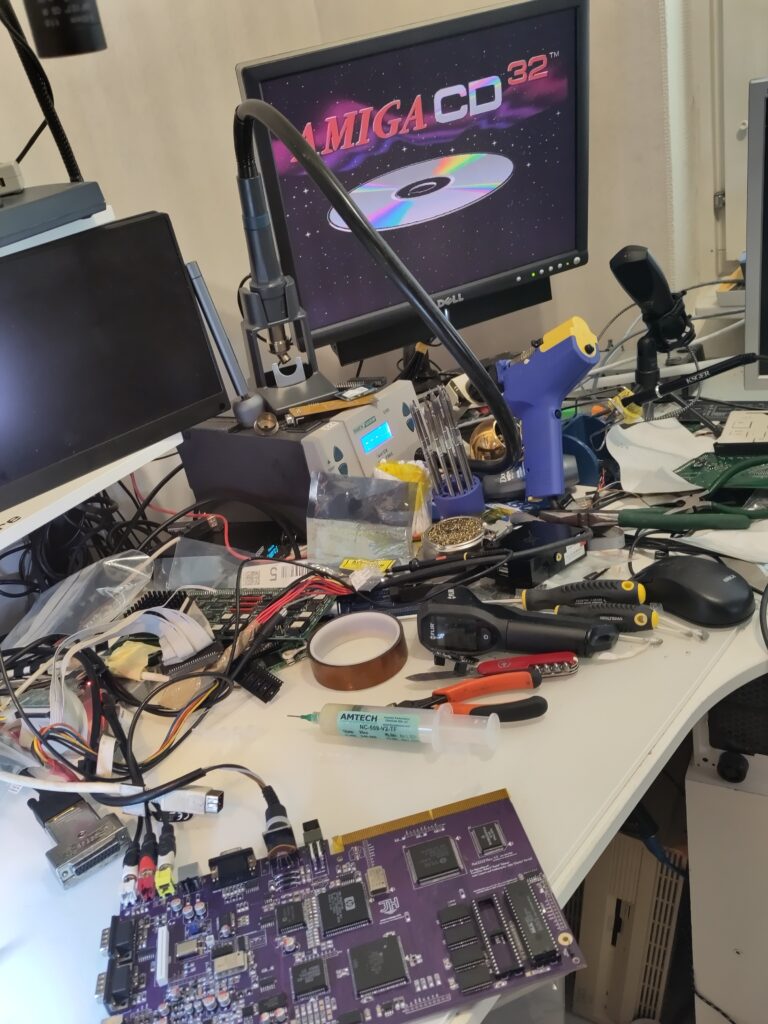 you MIGHT need to adjust the trimcapacitor close to the 4MHz oscillator to get proper color output on SVideo/Composite for PAL.
Enjoy!
5 thoughts on "
Building the ReCD32

"